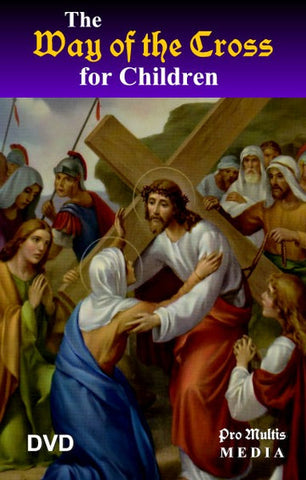 DVD: Way of the Cross for Children
This DVD presents a combination of beautiful prayers written by a "Religious of the Cenacle" in the 1920s, sacred music, and traditional images, making this a perfect Lenten companion for the whole family. Ideal for homeschoolers and families with small children. Not able to attend your parish stations devotions? No worries! Use this DVD to plant the seeds of Faith that will last a lifetime. 
Includes:
Prayers led by a Traditional priest with responses by children
Stabat Mater sung in English by children
individual child prays a meditation for each Station
prayers and images appropriate for the whole family.
Bonus Features: "Via Crucis: Rediscovering the Way of the Cross" - "A Short Way of the Cross" - "Jesus Our Redeemer" (Sing-a-Long Song).
Running Time: 47 minutes including Bonus Features
---
We Also Recommend