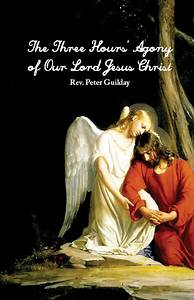 Three Hours' Agony of Our Lord Jesus Christ
The Good Friday devotion, popularly known as the Three Hours' Agony, is becoming one of the most eagerly attended services of Holy Week. This book is a series of sermons on the Seven Last Words of Our Lord on Calvary. No other series of sermons could be of more intimate and personal character than those given during the impressive services of the Three Hours' Agony. The traditions of the occasion itself open the heart wider than ever before. At no other moment does the sense of sin seem so intense, the fear of it so tangible; and the personal realization of the meaning of Calvary's tragedy reaches a depth seldom touched before or after Good Friday itself.
This booklet, printed in easy-to-read type, will be especially useful to the Faithful during Lent and especially Holy Week, but also throughout the year for First Fridays, etc., as a humble act of devotion to our Crucified Lord.
Imprimatur 1917
7" x 5"     71p. booklet.
---
We Also Recommend