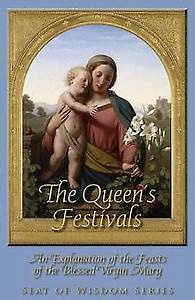 Queen's Festivals: An Explanation of the Feasts of the Blessed Virgin Mary
Many know the story of Our Lady of Mt. Carmel, but how about Lepanto--can you find it on a map?  Have you ever heard about the miraculous August snow that signified where Mary's basilica was to be built in Rome? 
Read about these and many other stories rich in detail regarding the holy feasts of the Church that honor our most holy mother. Written especially for children, this lovely sequel to Mary the Queen, by Mother Mary St. Peter, may surprise you with many tales you may not have known about Our Lady.  Packed with beautiful black and white illustrations, it's a must have for any Catholic library!

Slightly, but respectfully modified in places from the original version.  If you enjoy the work of Mother Mary Loyola, we think you will be thrilled to discover the work of Mother Mary St. Peter!
---
We Also Recommend