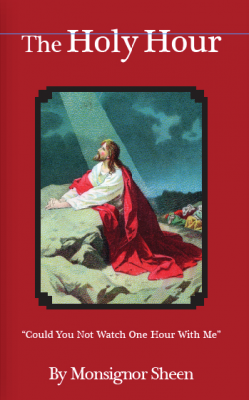 Holy Hour: Readings and Prayers for a Daily Hour of Meditation
The purpose of this book, compiled by Monsignor Fulton J. Sheen, is to aid souls in securing an inner peace by meditating one continuous hour a day on God and our immortal destiny.
Bp. Sheen says, "A broken bone gives pain because it is not where it ought to be; our souls are in agony because we are not tending to the fullness of Life, Truth, and Love which is God."
Produced for "The Catholic Hour" radio program.
8" x 5"     72 page booklet.
---
We Also Recommend