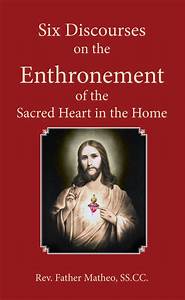 Discourses on the Enthronement of Sacred Heart in the Home
Originally published in 1918, this booklet gives us personal insight into Father Mateo's life experiences that led him to devote himself to the Love of the Sacred Heart. Included are short stories and examples of the power that the Love of the Sacred Heart wields.
"Remember that every Christian work not founded on great love, is nothing more than varnish, and will be short lived." 

64 pgs. Imprimatur. 

---
We Also Recommend