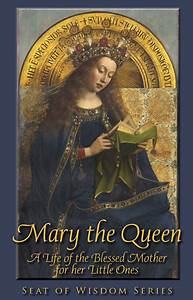 Mary the Queen: A Life of the Blessed Mother for Her Little Ones
Did you know that the Virgin Mary died and was buried before she was Assumed into Heaven? Or that she was raised in the Temple Precinct, along with other Jewish maidens--called Almas--until she reached marriageable age?
Learn more about the life of the Mother of Jesus in this lovely book written especially for children. Mary the Queen is the first of a series of books written in the early 20th century by Mother Mary St. Peter, a religious of the Society of the Holy Child Jesus. This series seek to teach the child not merely the catechetical truths of our Faith, but also the crucial importance of Apostolic Tradition, and how it informs the practice of our Catholic faith in ways we might not expect.
Some content includes:
- Joachim and Anne (Mary's saintly parents)
- The King's birthday
- Flight of the Queen
- Way of the Cross
- Resurrection
- The Queen's festivals and more!
Slightly, but respectfully modified in places from the original version.  If you enjoy the work of Mother Mary Loyola, we think you will be thrilled to discover the work of Mother Mary St. Peter!
---
We Also Recommend