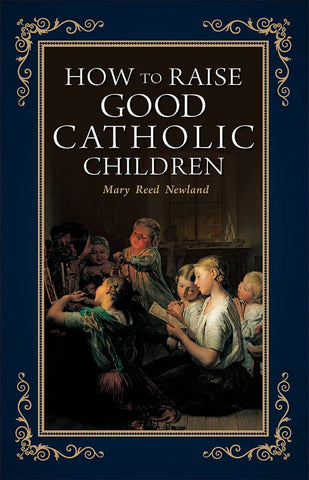 How to Raise Good Catholic Children
This book by Mary Reed Newland is a rare treat for today's parents: a practical and readable book on child care that derives its wisdom from the Catholic home rather than from psychologists.
First published in 1954, under the title We and Our Children, the author draws on her own experiences as the mother of seven to show how the classic Christian principles of sanctity can be translated into terms easily applied to children - even to the very young.
Because it's rooted in experience, not in theory, nothing that Mrs. Newland suggests is impossible or extraordinary. In fact, as you reflect on your experiences with your own children, you'll quickly agree that hers is an excellent commonsense approach to raising good Catholic children! This book is another "must have" for your home library. 
Let Mrs. Newland show you how to introduce even your littlest ones to God and develop in your growing children virtues such as:
The habit of regular prayer
Genuine love of the Rosary
A sense of the dignity of work
Devotion to Mary and the saints
A proper love for the things of this world and for the things of Heaven
Attentiveness at Mass
Love for the Eucharist
An understanding and love of purity
The ability to make good confessions
And dozens of other skills, habits, and virtues that every good Catholic child needs.
---
We Also Recommend