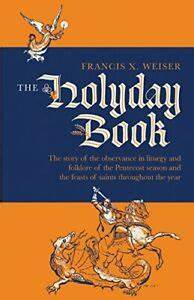 Holyday Book
This classic originally published in 1956 is the final volume in Fr. Weiser's trilogy on the cycle and celebration of Christian feasts.  Rich in history and legend, this book is devoted to the season of Pentecost and to the feasts of saints throughout the year. 

Why do we wear our best clothes on Sunday?  What was the Holy Ghost Hole in medieval churches?  How did a Belgian nun originate the Feast of the Blessed Sacrament?  Where did the Halloween mask and the jack-o'-lantern come from?
This lively yet reverent chronicle of the origin of many great religious customs belongs in every family's library!
---
We Also Recommend