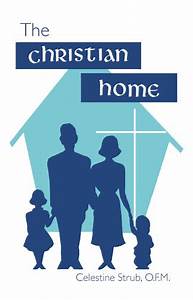 Christian Home
We are so pleased to bring back one of our best sellers from our catalog days! This wonderful guide to securing happiness in the home was first written in 1934 and contains necessary and sensible instruction to Catholic parents desirous of building a Catholic home--reliable advice that is almost completely lost today.   
The Christian Home covers every aspect of Catholicizing your home, from spiritual matters like prayer and catechism to practical topics like keeping the family budget, games and toys, harmony between school and home, good reading, and more.  There are numerous quotes from papal encyclicals in the book.
Every home could profit from this book!
144 pages, by Celestine Strub O.F.M.
---
We Also Recommend