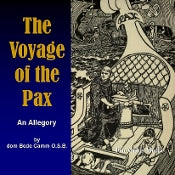 Audio CD: Voyage of the Pax
Set Sail for the Golden City to Meet the King!
Now the whole family can join the wise Captain and the young Mariners of the good ship Pax on their perilous journey to the Golden City. By employing the dangers of a long sea voyage as a powerful allegory for the way of salvation, English Benedictine Dom. Bede Camm (1864-1942) created an exciting way to introduce young hearts to the joys and challenges of the religious life. It was the author's hope that, "Perhaps indeed [The Voyage of the Pax] may help to develop in some young heart the germ of a nascent vocation."
Originally written to be read aloud, this new audio presentation features music, sound effects, and a talented cast of young voice actors to bring Dom. Bede's classic tale to life as never before. This presentation is sure to join Mother Mary Loyola's beloved The King of the Golden City as another family favorite.
2 CDs. 1.5 hours total listening time. 
---
We Also Recommend