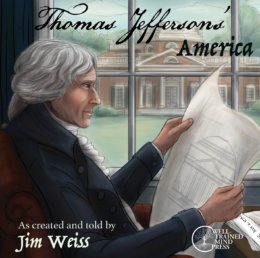 zAudio CD History: Thomas Jefferson's America
This exciting audiobook written and narrated by Jim Weiss tells the story of Thomas Jefferson's life, struggles, and accomplishments as he helped to create the United States of America and form our national character.
Thomas Jefferson lived a dozen lifetimes in one. Patriot, scientist, architect, president, author of the Declaration of Independence, he preferred above all titles, "father" and "grandfather." Yet time and again, demand for his unique skills drew him from the quiet home he loved. In this recording, you will thrill to true stories of war and peace, loyalty and betrayal, battles against empires and struggles against slavery.
Perfect for curriculum enrichment. 
---
We Also Recommend