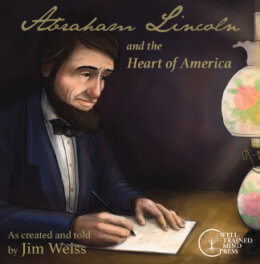 zAudio CD History: Abraham Lincoln and the Heart of America
This dramatic audiobook written and narrated by Jim Weiss introduces young listeners to Abraham Lincoln's life, and explains his role in American history. Jim's  spirited narration includes the complete Gettysburg Address and vivid descriptions of Lee, Grant, Stephen Douglas, Mary Todd Lincoln, Frederick Douglass, and more. Children and adults alike will be reminded why Lincoln holds a special place in American history and in our hearts.
Perfect for curriculum enrichment. 
---
We Also Recommend