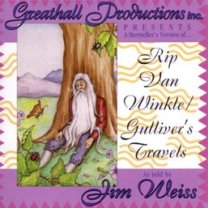 zAudio CD Classics: Rip Van Winkle/Gulliver's Travels
Three classics in one! The sly humor of Rip Van Winkle, Gulliver's adventures among the tiny Lilliputians and the wisdom of a Jewish folk tale.
Rip Van Winkle
Rip's Rap
Gulliver's Travels
Fool's Gold
"Weiss brings energy and creativity to these selections and easily involves the listener." —Booklist, American Library Association
ISBN: 978-1-942968-82-5
Timeline: Late 1700s
Location: England and United States
Values: Caring / Compassion, Consideration, Flexibility, Generosity, Helpfulness, Honesty, Honor, Justice, Kindness, Loyalty and Faithfulness, Reliability, Thankfulness, and Trust
This wonderful retelling of eleven stories from the classic Arthurian legend brings King Arthur and his Knights to life with action and grandeur, at a level which children can really grasp. 
Perfect for curriculum enrichment.
Location: Medieval Britain
Values: Caring / Compassion, Confidence, Cooperation and Teamwork, Courage, Courtesy, Determination, Excellence, Friendship, Honesty, Honor, Idealism, Joyfulness, Loyalty and Faithfulness, Purposefulness, Reliability, Respect, Responsibility, Service, and Unity
---
We Also Recommend