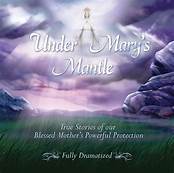 Audio CD Saints: Under Mary's Mantle
True Stories of Our Blessed Mother's Powerful Protection
The eight edifying, fully-dramatized stories on this Audio CD present some of the most incredible historical accounts and vivid examples of the power and love of Our Lady.
From the hidden troubles of daily life, to the dangerous snares of the battlefield, her children truly enjoy a protection that the most powerful men cannot touch. Draw closer to our Blessed Mother by listening to these captivating true stories!
Listening time: 71 min.
Perfect companion to the Activity Book: Mary, Our Mother!
---
We Also Recommend