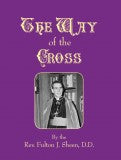 Fulton Sheen's Way of the Cross (Stations)
When he was a Monsignor, Archbp. Fulton J. Sheen wrote these meditations on the Way of the Cross. Through them, he intended that they enkindle in souls a flaming love for the Crucified Christ who, through His passion and death, revealed to us that it is only through the Cross that we are ever ushered into glory and eternal life. 
Includes black and white illustrations for each station. A wonderful addition to your collection of Lenten devotions!
Imprimatur 1933
4.5" x 4"      68 pp. booklet
---
We Also Recommend