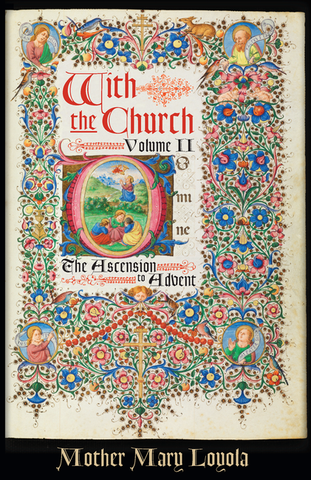 With the Church, Volume II: Ascension to Advent
Now for the first time in nearly a century, this classic set of meditations on the Liturgical Year are back in print! Written while Mother Loyola was bedridden with a hip fracture, these devotions bring us the urgency of living our life With the Church, for we "know not the day nor the hour." While this volume focuses no less on what our Lord has done for us, it does so always in the context of the burning question: what have YOU done for HIM lately? This is perhaps the most personal and immediate of her writings, with many reflections showing her readiness for death. 
Consisting of a series of reflections on the feasts of the year from the Ascension to Advent, Mother Loyola's thoughts are always well-grounded and ingenious, and their expression is clear and graceful, with a strong personal charm. They are musings jotted down just as they occurred to her devotional spirit, and not simply as dictated by a resolution to follow a certain line.
5.5" x 8.5"       paperback       340 pages
---
We Also Recommend